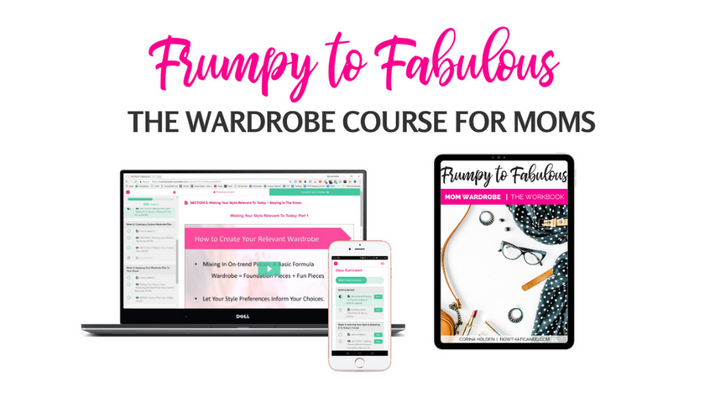 Frumpy to Fabulous: Transform Your Mom Wardrobe In 30 Days
A step-by-step group program for busy moms who want to look their best by learning their style & re-doing their wardrobes (on a budget!)
Sign Up
Are You Ready To...
Stop being frustrated over your clothes
Get ready with ease in the morning
Love everything in your closet
Save money by only purchasing what your closet actually needs
Shop with joy and confidence when you do choose to add to your wardrobe
Become a Fabulously Dressed Mom
Get out of the mom slump, find your style, renovate your wardrobe, create a burden-free clothing fund, and develop a system to keep your wardrobe fabulous.
You'll learn how to define your style type, seamlessly blend your style with today's trends, discover what should go in a smart wardrobe, and do it all without breaking the bank.

This system completely pulled me out of the mom slump for good.
I want to teach you the strategy in easy-to-implement steps that any mom can accomplish--in 30 days or less!
By the end of the program you will have a grip on your style, an uncluttered wardrobe you love, and a system in place to maintain everything effortlessly moving forward.
Your Guide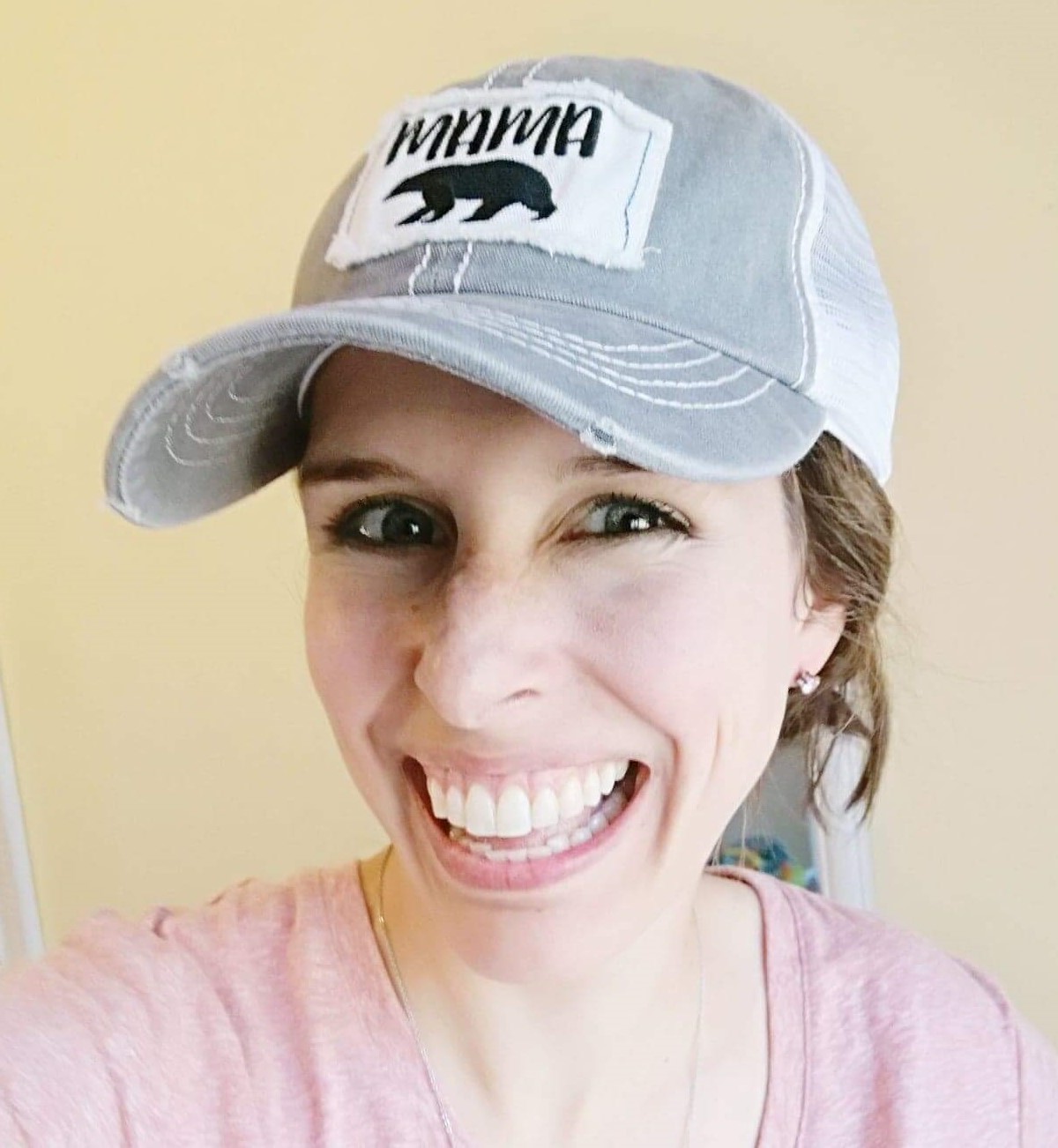 Hey! I'm Corina, married to my guy since 2010 and mama to 5 precious boys.
When I first became a mom, I found it a lot harder to find the time to get dressed intentionally each day. I also needed comfortable clothes and was home all day a lot of the time. To top it off, shopping by myself didn't happen as often as it used to!
It became frustrating to feel "the frump" threatening to take over. I was easy prey because I didn't know much about fashion. Trends scared me and I played it safe.
In 2016 I decided to do something about it and started reading about what my wardrobe needed. I wanted everything to mix and match easily and I needed to work with what I had. I was on a budget but I didn't want to look frumpy!
Turns out I wasn't the only mom feeling this way. The blog has become a popular place for moms who need fashion simplified for everyday life.
The 7 steps you'll walk through in the course…
Step 1: Understand what's getting in the way of a wardrobe you feel confident about.
Step 2: Know your body shape, the best colors on you, and what styles you love (and look good in)
Step 3: Feel confident about what's trending and how to incorporate just enough of it to look relevant (while staying true to your style.)
Step 4: Choose a color scheme of colors that you love, look good on you, and allow for mixing and matching.
Step 5: Map out your ideal wardrobe in a custom wardrobe plan, from tops to bottoms to jewelry.
Step 6: Apply your custom wardrobe plan to what's in your closet (know what to keep and what to get rid of)
Step 7: Set a clothing budget and know the best strategies for saving money while always avoiding shopper's remorse (come home happy from every shopping trip!)
Content Dashboard
Getting Started
Available in days
days after you enroll
Week 1: Learning Your Style & Body Type + Adapting It To Today's Trends
Available in days
days after you enroll
Week 2: Creating a Custom Wardrobe Plan
Available in days
days after you enroll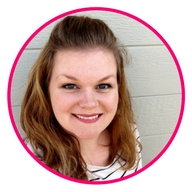 One Mom's Experience...
…my concerns included the need for time to shop for clothing, and how to buy clothes that would work for my changing body after having my last baby.
What made you decide you wanted to take Frumpy to Fabulous when it was first offered?
I was very excited about a sort of one-stop course, and it felt as if I had finally found the thing that was going to tie-up a lot of the loose ends for me. I anticipated learning things I didn't have time to go search out for myself, such as how to find my style or how to create a workable clothing list. The idea that I would be taken thru a step-by-step guide to learn how to identify which clothing items would really work for ME, with my style, my body shape, my budget, and even clothing that I liked, was a major attraction! I certainly found all of this and much more in Frumpy to Fabulous!
What are one or two tangible benefits you have experienced after completing the steps of Frumpy to Fabulous?
I found it so helpful to recognize what my body shape actually is, not what it used to be or what I hope it will be, and that dressing for my body as it is at the moment, will help me to feel my best.
I now have a personalized shopping list that I can take with me whenever I go shopping. I have confidence to walk into the store and look for specific items without feeling that old panic of merely hoping to find something… It may take some time to find that one item, but I won't be wasting time (and money) browsing the aisles looking for anything to catch my eye, praying that it fits and then bringing it home, only to have it sit in my closet going unworn.
What's it like to have your custom wardrobe plan after completing the last module?
Wonderful! Now, with my paired-down wardrobe, it is much simpler to get dressed in the morning. It felt so freeing to purge so many items that I had been holding on to (some for well over 10 years), and having a simplified wardrobe brings me peace of mind.
Who would you recommend this course to?
I would highly recommend this course to any woman, Mama or single, young woman or more mature, who wants to gain a better understanding of her style and the clothing that will help her to feel her best. This course goes beyond the Capsule Wardrobe to help you to gain confidence in your unique style, while still providing lots of guidance in what to add to your wardrobe, and choose how to those items. It truly is an all-in-one course!
- Sophia
This Course is Bundled with 1 Additional Free Course
Enrolling in this course will automatically enroll you in Motivate & Activate, a free mini-course about finding motivation and setting routines to fight the frump more consistently.
I only want you to take this course if it will bring you the complete value potential it has to offer.
Who This Program ISN'T For
This course is NOT for you:

You're already confident about your style and how to make it relevant to today, and your wardrobe reflects that well.
If your wardrobe is already versatile and easy to remix into countless outfits.
You love everything in your wardrobe, wear each piece frequently, and every outfit helps you love the way you feel about yourself.
Who This Program IS For
This course IS for you:
If you're a mom in need of casual, comfortable style for home. Or if you need a blend of home and work-appropriate clothes.
If you have a closet full of clothes you don't enjoy--or are bored of--wearing.
If you feel like you don't know what you're looking for when you go shopping.
If you feel like you have no idea what your style really is, this course will help you understand and feel confident in shopping for it (as well as getting rid of pieces that don't reflect the true you.)
If you are constantly second-guessing the way your outfits look. Have you ever thought to yourself how nice it would be to have your most stylish friends give their honest feedback on the outfits you put on?
You want to have a great wardrobe but are working with a tighter budget
Frequently Asked Questions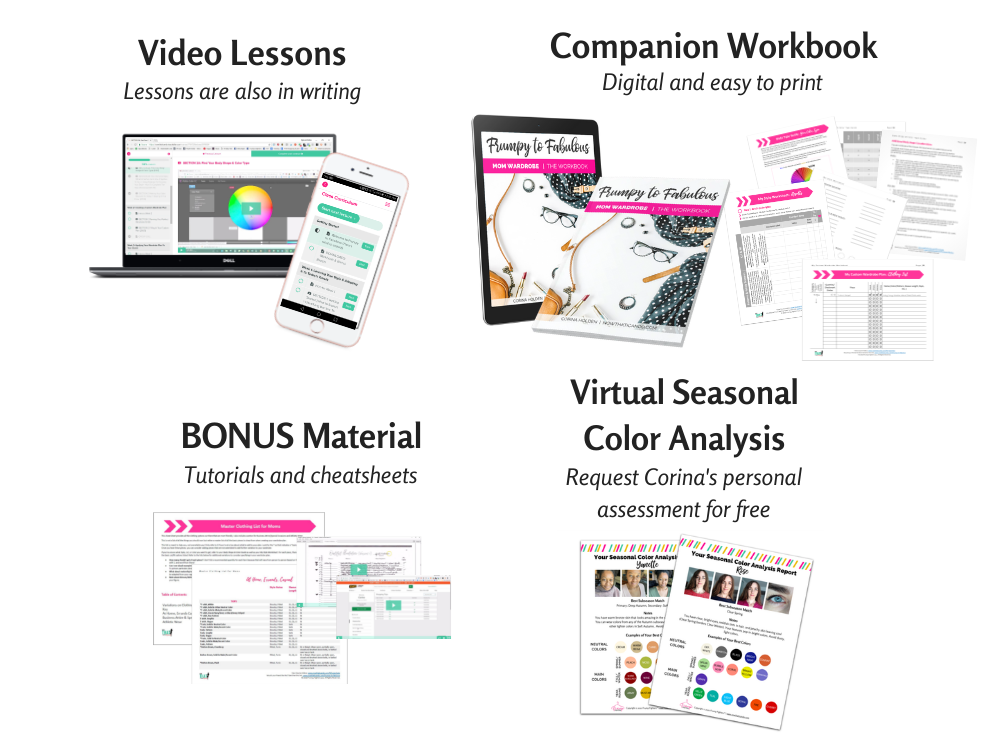 How You Get Results From This Program
Each week is designed with videos of me teaching the lesson and end goal.
You then have structured steps to follow along so that you can get the same results from the lesson. These steps are sometimes completed within a worksheet, but sometimes in your closet.
The workbook will not only provide the lesson outline but also gives your worksheets that make implementation of the lesson super easy.
You'll know exactly what you need to do on paper as well as in your actual closet.
Bonuses!
In addition to the lessons, workbook/worksheets, you will get helpful checklists, tutorials, and cheat sheets including:
Body Shape & Color Type Worksheet
Master List of Basic Wardrobe Pieces for Every Mom's Wardrobe
How to Use Cashback Services to Make Money for Your Clothing Budget
Still not sure if this is right for you? Send me a question. I try my best to respond within 24-48 hours!